Safety
With dëna anything goes in order to have fun
dëna toys are made of platinum-based silicone, a soft, resistant material, BPA free and 100% safe. This material is also used to make dummies, baby bottles and teethers of the highest quality. Silica is the raw material used for manufacturing silicone and is very abundant in beach sand and other similar rocks. Silica is also, for example, the main component of glass.
Platinum-based silicone uses a noble metal, platinum, as a catalyst, which gives it a higher quality. This makes it the ideal material in the manufacture of moulds and products suitable for contact with food. Products made of platinum-based silicone can resist a wide range of temperatures, between -60 ºC and 220 ºC, without becoming distorted. This versatility makes them suitable for the microwave, oven, dishwasher, fridge and freezer.
Likewise, they repel water and germs, so, in addition to facilitating their cleaning, dëna toys guarantee maximum hygiene and food safety.
dëna toys are safe and clean toys. Thanks to their design and to their platinum-based silicone, playing with dëna toys is free of drawbacks such as knocks, cuts, poisoning, and even annoyances such as noise from breaking toys as a result of falls, throws or biting.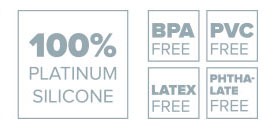 And your children will grow and develop in a world of fun, creative, safe and free play